Shopping Mall Robot Interactive Marketing Network
券多多
Shopping Mall Robot Interactive Marketing Network
Specially designed for shopping malls, Cheetah Mobile's Robot Interactive Marketing Network is an industry-leading marketing initiative based on human-robot interactions. Doubling as a coupon center and intelligent information desk, Cheetah Mobile's shopping mall robots attract customers, display advertisements, issue location-specific coupons, provide shopping guides and find store locations.
Leveraging voice interaction and AI technologies, the shopping mall robots can integrate celebrity and entertainment marketing campaigns to amplify partner promotions and build strong brand recognition, creating a memorable consumer experience. To date, more than 12,000 Cheetah Mobile service robots are serving over 1,200 shopping malls in 41 Chinese cities.
券多多小程序
除了售券机器人近场营销服务之外,券多多小程序与售券机器人形成闭环,在线下场景之外,基于LBS为商圈3km-5km范围内的优质用户提供营销、引流服务,并通过小程序的餐饮品牌专属优惠券、平台社群运营、平台红包补贴、全年节日营销等精细化运营解决方案,为商户带来更多生意,为商场实现顾客和会员拉新,与合作伙伴共享私域。
优势、规模、案例
特色优势
与专业平台相比,猎豹AI新零售优势是,入驻门槛低,运营成本低;为商家导流用户更精准,流量人群集中在商场机器人和门店线下导流,基于商场广告做门店最后50米的引流,自带商场标签,与商圈门店匹配度更高;运营玩法多样,有分销、补贴等多种引流和转化手段,提升订单转化。
与短视频、社区APP相比,猎豹AI新零售的优势是精准营销(用户精准、标签精准)、强服务体验,资源倾斜更大,曝光效果更强。
与第三方分享分销平台相比,猎豹AI新零售是公域+私域组合的模式,和分享分销平台有本质区别,其主要针对喜欢优惠的C端服务,猎豹AI新零售则是长期持续运营,更多针对B端(商家)服务。
发展规模
已在深圳、北京、广州、青岛、重庆、成都、济南等41座城市1200家商场落地,成为包括万科、华润、万达、凯德、大悦城等在内的头部商业地产品牌的共同选择。在餐饮商户方面,与瑞幸、汉堡王、呷哺呷哺、全聚德、将太无二、喜家德、云海肴、蛙来哒等超1000家知名品牌实现合作。
合作案例
深圳:汉阳廷烤肉上线不足两个月,售券机器人售卖近30万元
北京:小猪查理单店20天销售20万,通过机器人购券进店的顾客中临时决定用餐的占比达55%
广州:谭鸭血老火锅:售券机器人7天销售代金券300余份
青岛:集杰尚品自助烤肉,人机协作,达成单店GMV 超40万元
重庆:大隐多元海鲜自助6店销售额26万元,销量超过1200单,平均核销率98.8%
成都:牛牛和牛寿喜锅,一天新增顾客30桌
券多多合作热线:400-000-1076
Smart Service Robot Family
Smart Receptionist Robot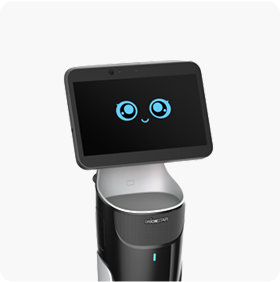 A light-weight service robot designed for nimble deployment in home environments like senior and assisted living facilities, HomeBot is remotely controlled by video calls. It is a smart personal assistant that can greet guests and provide guided tours. Beyond home environments, its "1+N" telepresence capability also increases efficiency for real estate video tours, offices, hospitality management and other scenarios.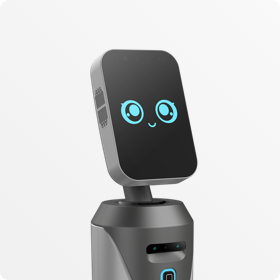 Cheetah Mobile's flagship receptionist robot, GreetBot, is capable of free conversation, shopping guidance, real-time inquiry, navigation, remote control and other smart functions. Embedded with OrionStar's proprietary Robot OS and Voice OS, GreetBot can be customized for more than 20 scenarios, including hotels, hospitals, libraries, banks, shopping malls, tourist centers, convention and exhibition halls, airports and public transportation hubs.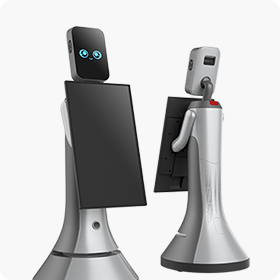 Designed for high-traffic retail scenarios like shopping malls, the eye-catching EngageBot doubles as an interactive advertising platform and information desk. Combining AI, voice technology, full-perception facial recognition, an embedded indoor navigation system and a 27-inch touch screen, the EngageBot not only talks to customers but also helps them find discounts, new products and store locations. Additionally, it intelligently recommends relevant brands, stores, products and coupons to meet customers' needs.
Smart Delivery Robot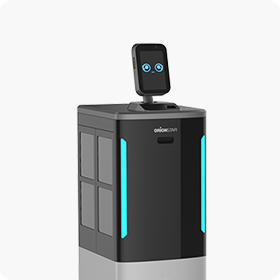 Meet Max, an ultra-large-capacity delivery robot that maximizes your delivery efficiency. Its sturdy, closed storage design holds a cargo maximum of 158 liters and 30 kg (66 lbs). Max automatically optimizes delivery routes, supports multi-stop delivery, and avoids pedestrians and obstacles. It can be quickly deployed in karaoke bars (KTV), hospitals and office environments.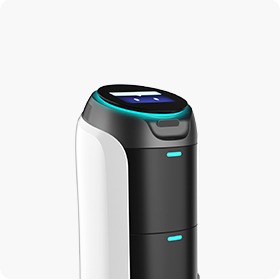 Elevate your delivery game with Sky, a compact delivery robot that rides elevators autonomously to provide VIP service to your guests or tenants. Designed for high-density scenarios like hotels and office buildings, Sky verifies staff's ID via facial recognition in milliseconds, calls the elevator, notifies the recipient, and returns to the charging dock once the delivery is completed. Sky also supports multi-stop delivery on a single trip.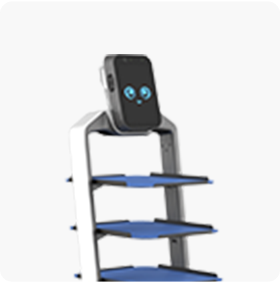 Need to deliver meals and attract customers? This robot does both. With an adjustable open tray design, this robot is capable of autonomous walking, precise navigation, intelligent obstacle avoidance, customer engagement, voice interaction and multi-machine collaboration. Delivering meals at peak hours and promoting business in between, this robot delivers up to 600 trays per day, reducing labor costs and increasing efficiency by 2-3 times of manual delivery.
Smart Retail Service Robot

The Robotic Coffee Master simulates master-level brewing techniques as complex as curves and spirals with millimeter-level stability and accuracy (reset error ≤ 0.1mm), thanks to 3,000 hours of AI learning, 30,000 hours of robotic arm testing and machine vision training. Space-saving and high-performing, the humanoid robot barista only takes up 3 square meters of space and can flawlessly make up to 1,000 cups of pour-over coffee every day, with each cup brewed to perfection.
Voice Service Robots
Cheetah Voice Assistant
Driven by Cheetah Mobile's signature AI software, Cheetah Voice Assistant intelligently manages user's calls by answering missed or undesired calls and forwarding call conversations via a mobile app or WeChat. Available in different real-person voices, Cheetah Voice Assistant can hold fluent conversations and respond to different queries naturally.
Smart Customer Service
Cheetah Mobile's Smart Customer Service is an AI-driven voice interaction system that provides an efficient and seamless customer service experience. It simulates real-person conversations, intelligently responds to initial questions from customers, and transfer calls to human operators when necessary.
Robot Ecosystem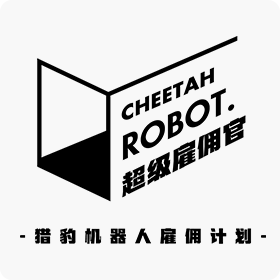 Let the Cheetah Mobile robot family help with your next event. Best for exhibitions and corporate meetings, our robots can provide your guests with contactless, prompt service, and create an elevated atmosphere.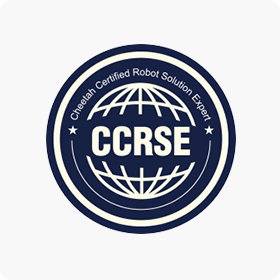 Issued by Cheetah Mobile and OrionStar, the Cheetah Certified Robot Solution Expert (CCSRSE) is the service robot industry's first talent certificate. CCSRSE offers two levels of training and certification: Level 1 for all sales, business, and operations personnel, and Level 2 for robot developers. Companies and individuals will receive this certification upon completion of the training.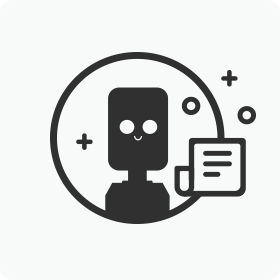 Cheetah Mobile launched the Robot Ecosystem Partner Program to advance the smart service robot industry. The program provides partners with training support, technology and marketing to help them develop innovative solutions and business best practices.